Return Policy
Thank you for shopping at Frontrunners. We are happy to accept exchanges & returns with the receipt or proof of purchase. Please note that unworn merchandise (excluding bras & underwear) with all original packaging and tags can be returned within 14 days. We will assess products for manufacturer's defects within 90 days of purchase. Anything beyond 90 days will not be accepted.  We unfortunately are unable to provide return shipping labels for online purchases.

Returns can be sent to:
Frontrunners
1200 Vancouver St, Victoria BC V8V0A4
Please wrap-up shoe boxes with paper. Do not tape the shoe box closed as it destroys the box and then is not re-sellable.
Once the returned item is received and in re-sellable condition, we will process the refund. We do not provide a return for any shipping fees incurred.

Thank you for shopping local!

Contact Us
If you have any questions about this Return Policy, please
contact us
.

Generally Accepted Warranty Conditions:
• Wear on outsole shows little to no use, proof that problem occurred prematurely

• "Problem area" shown below shows significant malfunction in a reinforced area, not merely a cosmetic defect or wear-and-tear issue from repeated interaction with customer.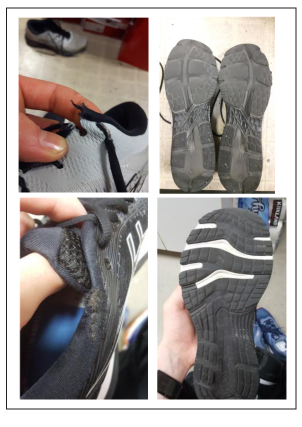 Generally Not Approved Warranty Conditions:
• Wear on outsole shows significant amount of use

• "Problem area" indicates repeated user interaction over life of shoe is a key component in the breakdown

• Generally considered "wear-and-tear"

• Significant amount of use indicated by wear pattern on outsole indicated user-interacted rather than manufacturer's defect.

• Minor cosmetic damage to mesh or fabric in upper consistent with mileage on shoe, wear did not happen spontaneously or without repeated stress on materials by user.
Powered by AZEXO Shopify page builder