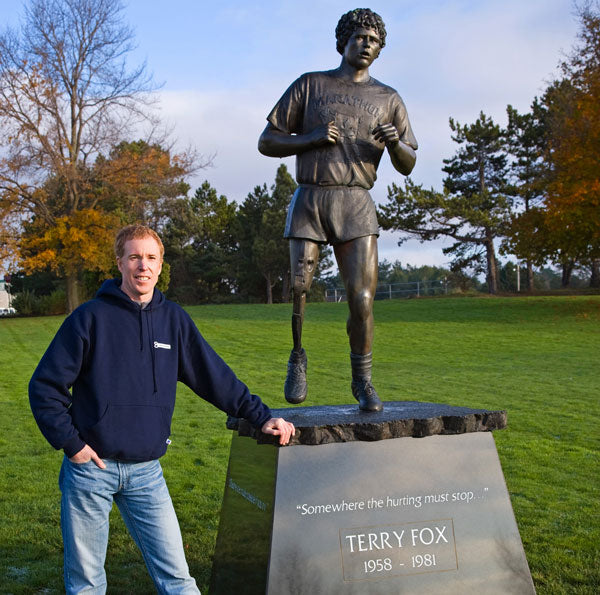 Run to Terry Fox statue honours Marathon of Hope
There will be a run to a statue this morning to mark the beginning of the 36th annual GoodLife Fitness Victoria Marathon weekend. 
But it's not just any run and it's not just any statue. 
Darrell Fox will lead the group — all are welcome to join at 8:15 a.m. — from the Frontrunners store (1200 View St.) to the Terry Fox statue at Mile 0 as the Victoria marathon honours the 35th anniversary of the Terry Fox Marathon of Hope. 
"Terry's story still resonates," said Fox, Terry's brother and senior adviser to the Terry Fox Research Institute, which has raised more than $600 million for cancer research worldwide…  

Craving the IV drip of motivation
Two and a half weeks into the marathon training clinic and I already have a nugget of wisdom. This is hard work. And the hard work hasn't even started yet…
Oak Bay's Reid recognized for philanthropic efforts
Oak Bay's Rob Reid earned the Generosity of Spirit Award during the during the sold-out National Philanthropy Day Awards event at the Fairmont Empress Hotel…
Times Colonist 10K given boost with new sponsorship from Frontrunners and New Balance Victoria
Frontrunners and New Balance Victoria, two locally owned stores that sell running-related equipment and apparel…
'Running mom' steps down as coach in Victoria Cool Aid program
Gillie Easdon was walking the Times Colonist 10K last month with a client of the Every Step Counts program when the tears started to well…
Powered by AZEXO Shopify page builder